WEDDING
HAIR & BEAUTY
The way you look on your big day can be one of the things you lose sleep over. Let us help!
NHB have a team of stylists on hand ready to take the stress out of getting ready for your special day
Be beautiful on your big day
You're already amazing, but every bride wants to look just that extra bit special on their big day. At NHB Hair & Beauty Salon we've been making brides and their bridesmaids across Yorkshire look jaw-droppingly astonishing for over 18 years. 
NHB Hair & Beauty Salon have a team of dedicated stylists on hand ready to take the stress out of getting ready for your special day. Our full wedding packages will look after your wedding hair, wedding makeup, wedding nails and any rehearsals that you need in the run-up to your special occasion.
Let us be part of a day you never forget, and never look better!
WHY CHOOSE US?
We understand the importance of getting the right stylist for your special day and how stressful it can be.
We've been a part of the wedding industry now for over 18 years, and know just how to make your wedding pamper morning run as smoothly as possible. Most of our wedding party's book us through recommendations, word of mouth or seeing our work at another wedding. It's this word of mouth that gives us the confidence of knowing that we're one of the best in the business when it comes to your big day.
Our aim is to make you feel the most beautiful version of yourself for your special day. We do this by working with you to decide the best wedding hair style and wedding makeup look for you, whilst also advising you on additional beauty treatments you may want before your wedding for yourself and your bridesmaids.
How do we book our wedding package with you?
We're delighted to offer a FREE no obligation consultation. This includes checking your date is available, discussing the size of the bridal party, who will want to be a part of your exciting pamper morning, and where you will be getting ready. Whether it's at our salon, your home or at a venue, we will be there, taking all of the hastle away from you. Our wedding packages vary in price and will be discussed with you directly so you can decide what size package you will need, and what suits your budget.
Do I need a trial run?
Whilst not essential, we do recommend that you have a trial run. This is so your mind is at ease and we know exactly what you are wanting on the day.
Why do I need a trial run?
This is a chance to test out any ideas you have about how you would like your wedding hair, makeup & nails on your big day. This gives you the chance to try something you think might look great without the risk of not liking it on your wedding morning.
What happens at the trial run?
The trial takes place at NHB Hair & Beauty Salon. Your wedding hair, makeup & Nails can be changed afterwards so that no one gets to see the finished look or if you like, you can wear it for the rest of the day!
When do I need to have my trial?
It's down to you when you have your trial. Most of our brides make this appointment several weeks in advance. But again, this is down to you. Get in touch and we can book it for you.
When do I need to book with you for my wedding?
Most brides start looking for their stylist when they book their wedding. Dates can be booked up to 1 year in advance so be sure to check we have your date available first. Provisionally book your date and pay your deposit to secure your special day.
What wedding services do you offer?
We have a wide range of beauty treatments on offer to help you get ready for your big day from hair, nail and lash extensions to specialist facials and massages.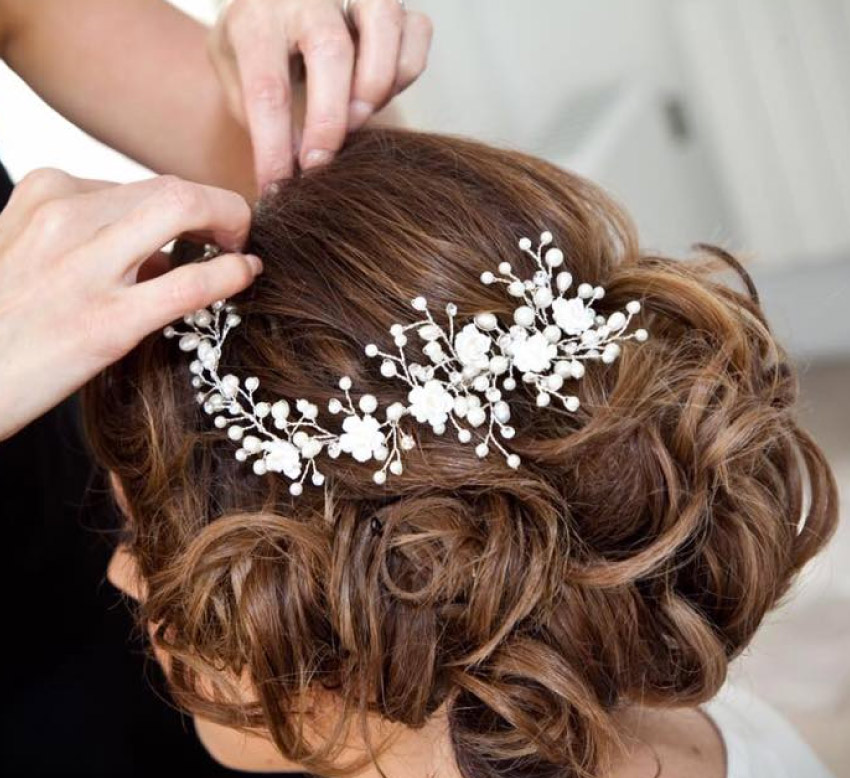 OUR YORKSHIRE BRIDES BY NHB
Excellent customer service. I had my wedding hair and makeup up along with bridesmaids. It lasted all night and looked fantastic. We had so many compliments at how good we all looked 
 Thank you so much 
Sarah Swallow
I just wanted to say a massive thank you for the hair and make you did up for my wedding day. Everyone loved both their hair and make up and we received lots of compliments on how great it all looked. 
Sarah Boulton
LATEST OFFERS AT THE SALON
Latest Wedding Offer
Book 4 of more of our bridal package and receive the mother of the bride free
A package includes more than one treatment per person on the day.
Money Saving Tuesdays
HAVE 2 OR MORE treatmentS ON A TUEDAY and receive 20% off your final bill
This only applies to employed staff. Please specify if you would like to take advantage of the offer.